The Leader In HVLP Sunless Spray Systems Since 2003
In 2003 Apollo Sprayers (Vista, CA USA) developed the first Sunless HVLP Tanning Systems, utilizing their expertise in HVLP technology and innovation dating back to 1966, and quickly becoming the system of choice for salons, spas and independent technicians around the world. Since then, APOLLO has sold over 100,000 systems world-wide and is recognized as the leader in HVLP sunless spray tanning systems.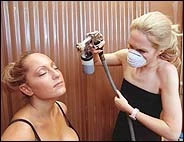 APOLLO systems are easy-to-use, gentle, efficient and cost effective. The tanning solution goes precisely where you want it to go allowing the technician to easily shade and contour for the perfect tan. In addition, the tanning solution is so finely atomized that not a drop is wasted.
APOLLO HVLP Sunless Tanning System Features
Apollo turbine motors provide high efficiency and maximum longevity
Mist Applicators

Are precision built, simple to use, clean and maintain
Are ergonomically engineered for the technician's comfort
Are specially designed to stay cool and protect the operator
Provide a superfine mist for maximum customer comfort

Lightweight Ultra-Flex™ air hose w/ Quick-Connect alloy hose ends for ease of use and reduced operator fatigue
All models are lightweight and portable
Attractive sleek styling
1-2 Year Limited Warranty for peace of mind (model dependent)